Note:
This is my own personal thoughts of the following products. It can have different results on others and other's might like it, love it, or hate it.
Make Up For Ever: 5 Camouflage Palette Cream
I use this palette to cover under eye circles, blemishes, scars, or to even out skin tone. However, I felt it was a bit "cakey" when I applied it. I am much happier with my MAC concealer because I feel that it just glides on super easy. With this one, I felt I had to dab more to get that coverage. I give this palette a 3 out of 5.
According to the package, this powder contains spherical micoparticles which give the skin a perfect, glowingly natural complexion. It is talc-free and will not dry out the skin. It contains mineral silica powder and can be used on all skin types. It is extremely fine and colorless and can be applied to every skin tone.
I absolutely love this product. I applied it over my foundation and it was the perfect finishing touch. My skin felt so soft and smooth. It literally felt like a baby's butt!!! I did get a bit oily on my nose and forehead after 4 hours but again, I do have oily skin. I recommend this product for everyone to try. However, the price is a little too much for 0.35oz.
Last night, I saw a video that xsparkage posted saying that coastal scents has the exact same thing but like 3x bigger and it only costs $4. So I say go to
www.coastalscents.com
and purchase it. I'm thinking of returning this and getting it at coastal scents instead.
I rate this product a 5 out of 5. It is truly AMAZING and a MUST HAVE!!!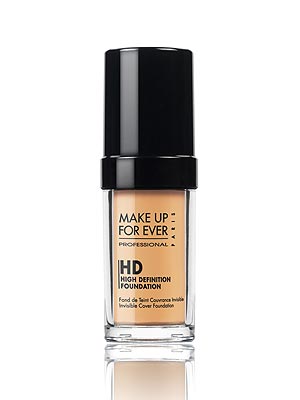 According to the box, this foundation combines flawless coverage and an extremely natural finish. Its unusually smooth and elastic texture makes it easy to apply and a pleasure to wear. Skin texture is refined to give a very natural complexion. It is dermatologist tested and oil free.
I LOVE this foundation!!! When I applied it, my skin felt as if I didn't have any foundation on. I kept looking at my skin and thought "maybe I didn't apply much" but nope!!! This baby is the BEST for everyday use. It has medium coverage, giving you a more natural look. Comparing this to MAC Studio Fix, I really think they are both great products. For more coverage, I would use the Studio Fix but for everyday use I would definitely use the MUFU HD foundation. Other than the price ($40), I rate this a 5 out of 5.
If you have any questions or if there something I left out about the products, please feel free to leave me a comment.
Til' next time.....