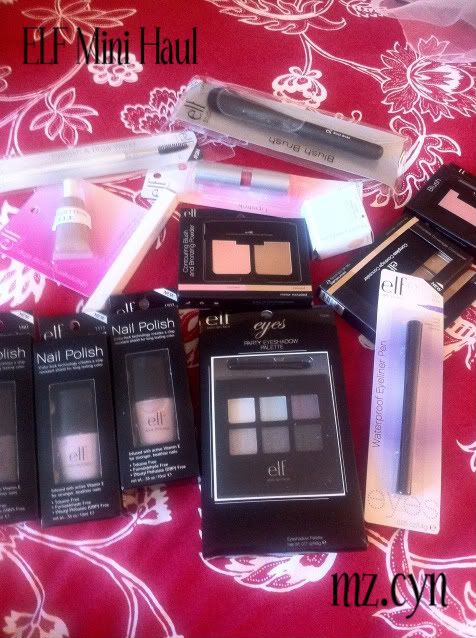 I finally decided to make a purchase on some ELF goodies and let me tell you I am impressed!
Here's what I got and a mini description of the items:
Nail Polish in Smokey Brown, Nude, and Fair Pink
Eyelash and Brow wand - Defines lashes after mascara application or brow contouring to create perfectly defined brows and lashes.
Blush Brush - very soft and creates a defined and sculpted look
Lipstick in Seductive - a bright pinkinsh plum color; long lasting and shine, hydrates, conditions and softens, soothes and smoothes lips
Mineral Lip Liner in Peachy - creates definition that is soft, natural, and brilliant. The gentle glide formula gives consistent color without tugging or sharpening for a beautiful enhanced look.
Blush in Candid Coral - peach pink color; the soft sheer texture blends into the skin for a silky finish
Contouring Blush and Bronzing Powder - creates a healthy and natural glow
Mineral Eye Brightner - perk up those tired eyes and diminish the appearance of dark shadows; infused with Chamomile, Green Tea, Mulberry and Vitamins C & E to nourish, tighten, and refresh! Great for also using as an eyeshadow base or around the nose, lips and everywhere you want to brighten and revitalize.
Waterproof Eyeliner Pen in Plum - smudge free, no budge eyeliner that lasts for hours; smooth pen applicator easily glides on color for very fine to bold lines.
Party Eyeshadow Palette - convenient and easy to apply; the colors are vibrant and never creases or fades.
I can't wait to try these products out. I will be posting up my personal opinion on these babies and let you know what I think but so far I like!
What are your favorite ELF products?